Details
We are excited to stay open but will continue to practice public health restrictions. All attendees must reserve their place in church ahead of time and abide by the following safeguards:
Masks are mandatory and new one will be provided upon entry.

All attendees should maintain 2 metres of distance between each other, except for members of the same family or household.

Do not attend if you are experiencing any signs of illness.
Important Changes
Entrance & Check-In
Church doors will be propped open to prevent the need to touch handles. Upon arrival, we will have a socially distanced, hands-free check-in process. Only those registered will be allowed to enter the church. New mask will be provided. Allow an usher to seat you.
Hand Sanitizer Stations
Hand sanitizing stations will be provided at entrances. Everyone is encouraged to use before & after services.
Coffee Station & Children's ministry Will Be Closed
Unfortunately, we will not be offering our regular amenities such as beverages, snacks, and children's ministry during our limited seating services.
Continuation of Online Services
We will continue to host our weekly online services. We hope that those who cannot attend us in person will continue to join us online.
Frequently Asked Questions
Will I have to keep my mask on the entire service?
Yes. Attendees will have to keep their masks on during the service.
If one person in our household is ill, does that mean everyone needs to stay home?
Yes. If anyone in your household is sick or exhibiting the symptoms of COVID-19, please stay home.
How early can we arrive and sit inside?
Attendees should plan on arriving no earlier than 20 minutes before the service.
Weekend Service Gathering Guidelines
We are so glad that you are joining us for a weekend service.
Please take note of the following in order to help us gather safely:
Do not attend if you are experiencing
any signs of illness.
Including cough, fever, shortness of breath, runny nose, or sore throat.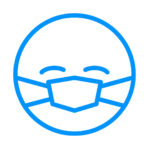 Masks are required
Current Alberta public health measures require masks to be worn in all indoor public spaces.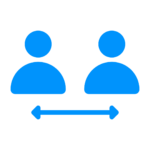 Social distancing
For your convenience and comfort, our usher team will help you find a seat to ensure adequate social distancing between households.